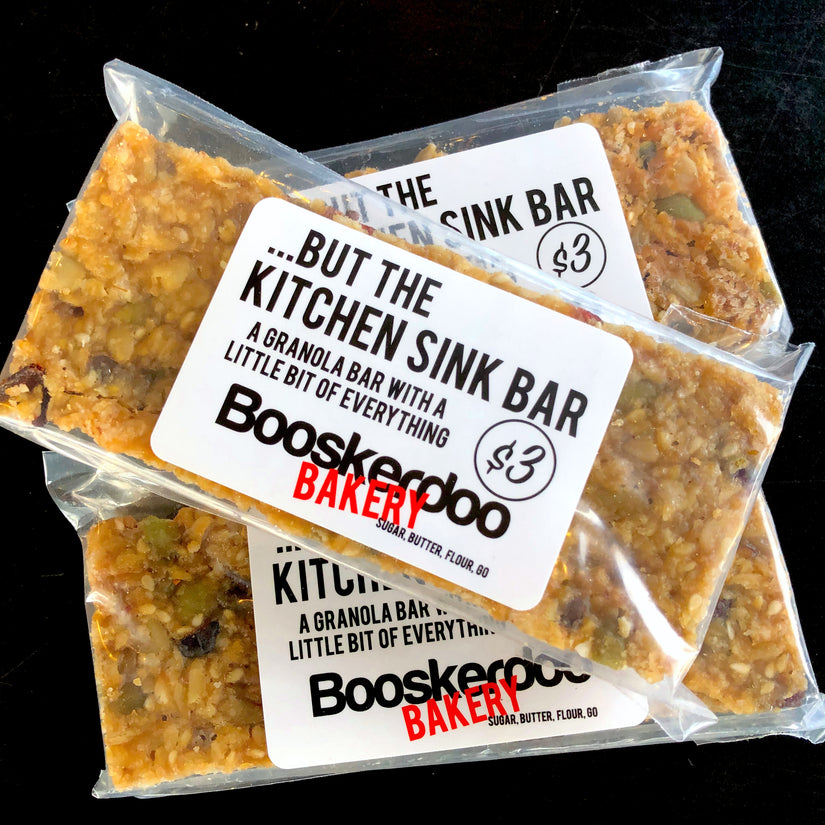 ...But the Kitchen Sink Bar (a joyous granola bar for the soul)
Our Kitchen Sink Bar has become an institution at the cafes. We pack a little bit of everything in this bar, such as peanut butter, oats, chocolate chips, cranberries, pumpkin seeds, raisins, pecans, oats, and sunflower seeds. this extremely satisfying granola bar comes in packs of 3, 6 or 12.  
Handmade by our fabulous bakers at the Booskerdoo Bakery in Asbury Park. 
Enjoy!
Ingredients: brown sugar, peanut butter (peanuts, sugar, molasses, vegetable oil), light corn syrup (corn syrup, salt, vanilla), oats, semi-sweet chocolate (sugar, chocolate, cocoa butter, milk fat, soy lecithin, vanillin, artificial flavor, milk) butter (cream, natural flavor), sunflower seeds, dried cranberries (cranberries, sugar, sunflower oil), pumpkin seeds, raisins, sesame seeds, pecans, vanilla extract (water, .alcohol (35%), sugar, vanilla bean extractives). 
CONTAINS: PEANUTS, PECAN